Color Collections
With our color collection, windows become so much more than an opening to the outdoors. They transform a space, both inside and out, into a statement of style. Our hues and natural-looking wood finishes are engineered to be remarkably strong and fade-resistant, ensuring beauty to last. With the option to pair an exterior color with an interior woodgrain, it's simple to create a look all your own.
Exterior Colors
Window World's carefully selected rich, deep colors add interest to the exterior of any home. From Forest Green to English Red and everything in between, each color is crafted to complement our customers' homes, adding curb appeal and increasing value.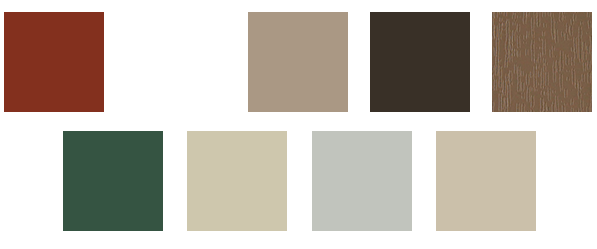 Interior Options
Giving homeowners the ability to match to existing wood or trim accents, our interior options allow for unity and distinction in any space. Add charm to your home with the time-honored, traditional look of wood without the maintenance. Or, match trim in white or beige to remain consistent with the decorative features you already love. Our interior colors are sure to make any room a new favorite.